Lady Barn House School 150 Years Anniversary
During 2023, we will be celebrating the 150 years that have passed since the founding of Lady Barn House School. This is a wonderful opportunity to celebrate our history, as well as to look forward to the future.
Lady Barn, since its foundation in 1873, has been a forward- thinking and innovative school, which encourages our pupils to embrace their learning in all its forms, and puts them firmly at the heart of all we do.
This anniversary is the perfect time to bring together the Lady Barn Community of pupils, parents, and staff, both present and former. Through a series of special events and projects, together we will be celebrating Lady Barn's 150 years.
In this welcome video, Headmistress, Ms Higson, introduces Lady Barn 150 and emphasises the importance of community and looking forward to the next 150 years.
Please watch out for updates below, as we celebrate Lady Barn and our special the community.
150th Award
This award has been designed to recognise and celebrate the commitment and contribution of our pupils to Lady Barn life and the opportunities that we provide, and it will run throughout the school. It will be accessible and achievable for everyone to work towards. The route to gaining the award will be a personal journey and there will be no single way to achieve the award.
The award will run from the Early Years through to Year Six and will have 4 levels and each level of the award will require two years of commitment (apart from 22/23).
At the end of each academic year the Form Teacher will review each child's progress towards their award. In the first year, they will assess if their pupils are on-track to achieve the award. In the second year they will assess whether they have achieved the award. In both years, with assistance, pupils will reflect upon what they have enjoyed, what they have learnt and what targets should they set targets for the future.
At the end of the Summer Term, we will arrange special assemblies for the presentation of the 150th Awards.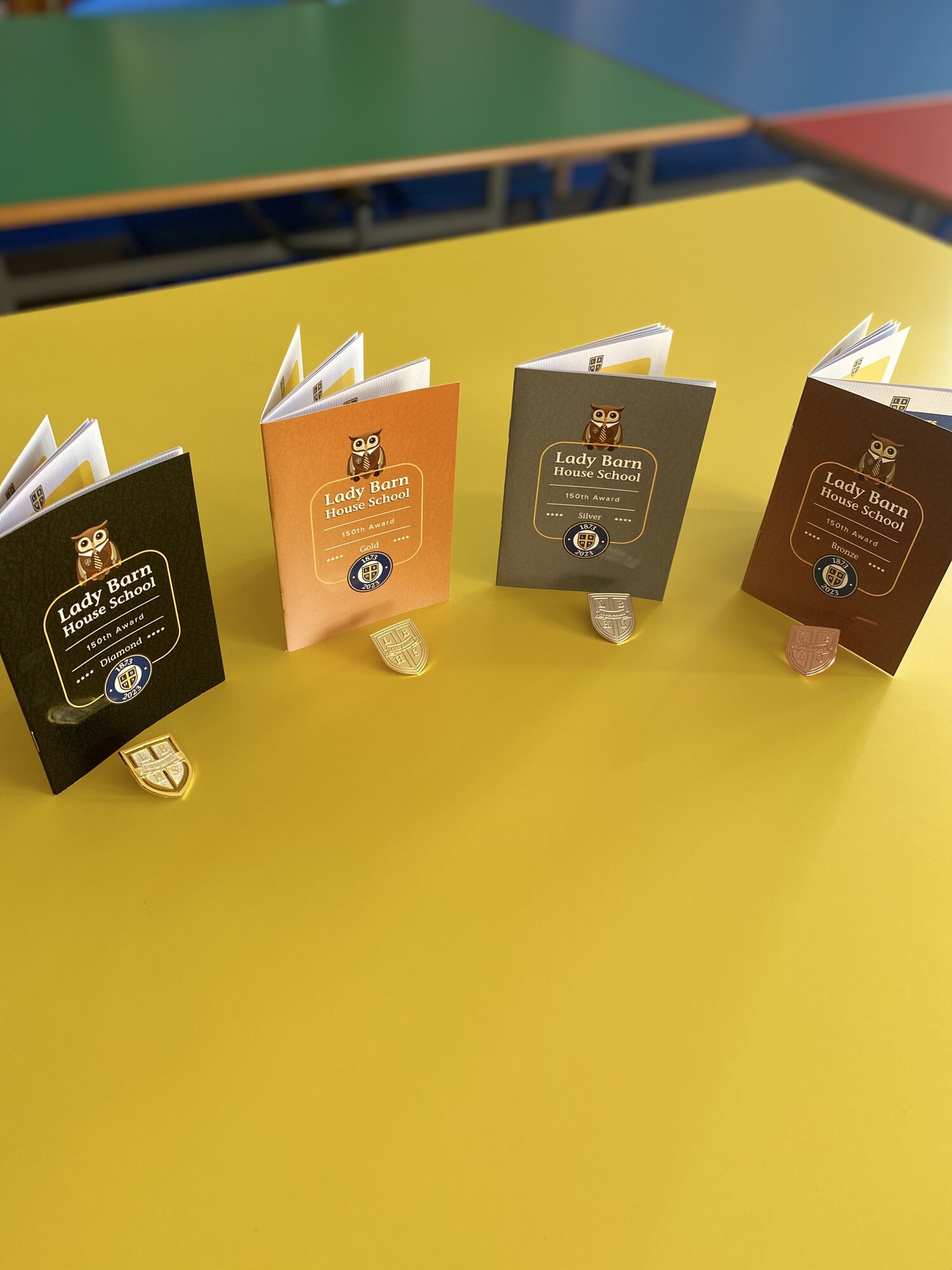 Star in our celebratory video
Record your 'happy birthday' message on a phone or tablet device.
Submit by email by 31 March 2023 to friends@ladybarnhouse.org.
Thank you.
Friends of Lady Barn 150th Anniversary Ball
We aren't just a school, but a community of pupils, teachers, staff, parents, businesses, and beyond. Anyone with a connection to the School, is warmly invited to join our Friends of Lady Barn Community. We connect Lady Barners past and present and keep our members up to date with events and activites.
Register here to join and book tickets for our 150th Anniversary Fundraising Ball.