Admissions
We warmly welcome all enquiries; our Admissions Team is available year round and we are here to guide you through every step of the admissions process. We offer private tours of the school during the week and hold regular weekend open events.
Some frequently asked questions are answered below, and you might also like to have a look at our Lady Barn 'Mythbuster' questions too! Please get in touch if you would like further information about any aspect of the admissions process, or would like to arrange your visit.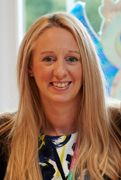 Mrs Laura Lachevre
Head of Marketing, Admissions & Communications
E: admissions@ladybarnhouse.org
At what age can my child join Lady Barn?
Our Early Years Department welcomes our youngest pupils to the pre-school Nursery in the September following their third birthday. Places are offered in order of the date of application, although siblings of current pupils are given priority. Applications for a potential place are accepted from birth and we encourage parents to visit us and apply for Nursery well in advance wherever possible, particularly as offers are made around a year ahead of the proposed start date.
Is there an opportunity for my child to join Lady Barn in Reception?
Yes, although there are fewer places available for Reception entry, usually around 10 places.
Children registered for Reception entry are invited for a pre-arranged, two-hour observational nursery visit in the autumn term prior to entry.
Places are offered subsequently and will be secured on a first-come, first-served basis.
Is it possible to join Lady Barn in Prep 1 to 6?
Yes, we welcome applications for children to join Lady Barn in Prep 1 and above and places are offered subject to the outcome of a taster visit.
Taster days are arranged on an ad-hoc basis for children in the lower year groups. Each spring, we hold set days for entry the following academic year into Prep 3, 4, 5 and 6. We also hold a Scholarship Day for entry into Prep 3. However, we also offer ad-hoc visits throughout the year and are happy to accept mid-year admissions for all year groups, subject to the availability of a place.
We operate waiting lists for all year groups where there is not currently a place.
Can I apply from overseas / out of area?
We welcome out-of-area and overseas applications.
If you are unable to visit us in person, we can arrange for applicants to complete our tests remotely. It is important for remote tests to be carried out by the child independently, so that we can ensure that Lady Barn is the right setting for them.
The Application Fee for overseas applicants is £50, and the Acceptance Deposit for overseas applicants is £1000 (compared to the standard £300).
What fees are required during the admissions process?
The Application Fee is £50. This should be submitted as part of the application process, which can be completed online here.
The Acceptance Deposit required to secure a place at Lady Barn, alongside the Acceptance Correspondence, is £300.
The Acceptance Deposit for families securing a place from overseas is £1000; £700 of this will be allocated to the second term's fees upon joining.
At what age do children leave Lady Barn?
Children remain at Lady Barn House School until the end of Prep 6.
The Lady Barn journey paves the way for entry to the full range of senior schools, locally and further afield. Parents are guided by our many years of experience in pinpointing the right school for their child's next educational step.
Please visit our section on 11+ Preparation and Success.
Admissions Statement
Lady Barn House School is pleased to accept applications for children to join in various age groups and maintains a partially selective policy for admissions. The school is, therefore, mixed-ability by nature and in keeping with its aims to provide an holistic, well-rounded education.
Lady Barn House School welcomes applications from all sections of society and is non-discriminatory in line with the Equality Act (2010) and the School's Equal Opportunities Policy. This applies to all pupils including EYFS and rejects inappropriate discrimination on the grounds of gender, age, race, religion or belief and physical ability or disability.
The School does not operate within a catchment or priority area.