From W H Herford to the present day
Miss C Herford 1886-1907
In 1886, at the age of 67, W.H. Herford retired from Lady Barn but spent his time travelling and campaigning for education reform and the rights of females to equality in education. He eventually retreated to his summer house at Torbay Lodge in Devon where he continued to write and publish his work. Caroline, his daughter arrived from the University of Cambridge to take up the headship. She brought with her three of her contemporaries and maintained the spirit and high standards of her father's school.
W.H. Herford lived to the grand old age of 88 before passing on in 1908. As a mark of respect, Lady Barn held the first 'Founders' Day' in his honour every October.
By 1904, around 70 boys and girls attended the school. It was controversial for promoting co-education, as many experts of the time disagreed with the idea of boys and girls being educated together.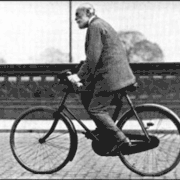 In 1904, C.P. Scott, the celebrated newspaper editor and owner of the Manchester Guardian, joined the School as the Chairman of the Ladybarn Council. All his children would pass through Lady Barn and 15 of his grandchildren. He gave thirty years of acumen and financial support to the School, remaining on the Council until 1934.
Notably, it was in the Drawing Room at Ladybarn House that C.P. Scott and Miss Herford co-founded the Withington Girls School. C.P. Scott arranged for the School to be taken out of private ownership and into a company. C.P. Scott, Chairman of Governors (1904-1934)
Miss Beard 1907-1915
In 1907, Miss Herford left her position as headmistress to care for her recently bereaved father and to marry. At the time, it was not lawful to be a married woman and to teach. Miss Herford recommended that Miss Beard should take over from her as headmistress. Miss Beard's grandfather had taught W.H. Herford at Manchester College, York.
In 1908, in response to the passing of W.H.Herford, Miss Beard introduced Founders' Day. It took place on the third Wednesday of October in the Michaelmas Term. The children hoisted the school flag and marched into the school hall for a special assembly where their Miss Beard addressed the school and reminded everyone of their responsibility "…..to not drag down the standard" set by W.H. and Miss Herford.
Miss R.H. Rees 1915-1917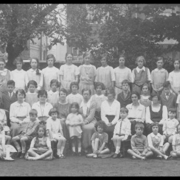 In 1915, Miss Rees, another associate of Miss Herford, began her two-year tenure of headship. Her time coincided with the First World War and under her leadership, the School responded to a plea from the Flanders trenches. Former-Lady Barn pupils, serving as officers appealed for knitted mittens, mufflers and balaclavas. These were duly knitted and supplied and letters were exchanged. Lady Barn House School, 1915, Miss Rees second row at the centre (photo taken in the grounds of Withington Girls School)
Miss I Lawrence 1917-1922
Between 1917 and 1922, Miss Lawrence held the headship, pupil numbers declined & turmoil ensued until the arrival of the much-vaunted and longest-serving Lady Barn head, Miss Jenkin-Jones (1922-1960).
Miss C.M. Jenkin Jones 1922-1960
Miss Jenkin Jones arrived via Cambridge University where she had read Mathematics. During her time, Dame Kathleen Ollerenshaw attended the school. She wrote of her vivid memories of Miss Jones. She commented that Miss Jones had inspired her to become a mathematician. She also said, "She had a shiny face that had never known make-up. She was strict and sometimes fierce but she was always kind to me. In the next four years, she fed my passion for numbers."
In 1970, Kathleen was made a Dame Commander of the Order of the British Empire for her "services to education" (becoming a dame is the female equivalent of the knighthood). In 1984 she was awarded the 'Freedom of the City of Manchester', the highest honour the city could bestow. Previously she had served as Lord Mayor of Manchester.
University of Manchester & Evacuation
In 1931, due to increasing economic pressure, the decision was taken to accept assistance from the University of Manchester. Lady Barn allowed student teachers to train at the school. In 1939 at the start of the Second World War, the School was evacuated to Great Budworth and away from the Nazi bombing of Manchester.
Possible Closure?
The war caused the University of Manchester to withdraw its support of Ladybarn. Unbeknown to the University, Miss Jenkin Jones took charge of Ladybarn and became proprietor and headmistress. The School moved to Cheadle Hulme and its 3rd location. It was spread over two locations. At Ashdale lessons were delivered and the boarding house and meals were taken at Moseley Grange where Miss Jones' apartment was located.
Miss. Jenkin Jones continued to take great care to preserve the School's traditions. She remains the longest-serving head of the school, some 38 years. In 1952 she had the School transferred into a Lady Barn House School Ltd. The old 'Ladybarn' was dropped to be replaced by 'Lady Barn House School'.
In 1960, due to ill-health, Miss Jones suddenly announced her retirement. Instead of seeking a purchaser, she presented the school, its buildings and all its contents to the remaining directors who then became trustees who would then carry the School forward. A non-profit charitable trust was created. Even today, this incredible act of generosity has not been forgotten as Miss. Jones' portrait hangs at the foot of the main stairs in Langlands.
Miss B Noakes 1960-1971
In 1960, Miss Noakes took up the headship and within a year the school took the decision that would ultimately change Lady Barn's destiny. A new era began when the school moved to Langlands House. Both school buildings had been sold and a further £15,000 was raised to adapt to the old doctor's house into a school. Despite the new surroundings the pupil numbers still dwindled. These were troublesome times for Lady Barn!
We can reflect now that the move to Langlands proved to be a masterstroke because in years to come the School would be ideally placed for the A34 bypass and within easy access of the M60 motorway. Residential development in the area has continued to increase alongside an influx of upwardly mobile professional people.
Mr E.J. Bonner 1971-2002
The appointment of a new headmaster saw the School slowly turn around. In September 1971, with closure, a real prospect, Dr Richard Stone and his fellow directors appointed Mr Bonner. He was promptly informed that "the school had begun with a headmaster so it might as well finish with one too!"
Under the charismatic leadership of Mr Bonner, and his Deputy, Mr Ward, the School grew to become one of the most respected 3-11 independent co-educational primary schools in the North West of England. Pupil numbers rose from barely 100 to over 400. In 1995, Mr Bonner honoured the legacy of Lady Barn's founder, W.H. Herford, when a new building was named after him. Herford House was constructed to provide specialist facilities for the Early Years and the Upper Junior pupils.
At Easter 2002, Mr Bonner announced his retirement, leaving a thriving school. The actions of Mr Bonner and his colleagues had significantly moved the School forward. Upon his retirement, he commented: "It is our task to educate future generations. We must lead them into the light of pleasure of knowledge."
Mrs S Yule 2002 – 2011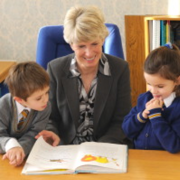 Mrs Yule became headmistress of Lady Barn and she led the School with grace and energy. She maintained impeccable standards and inspired the school to achieve excellent ISI inspection reports in 2005 and 2011. She had boundless enthusiasm and vision to lead.
A programme of improvement and modernisation of facilities took place during her tenure including the Infant and Junior Libraries; the building of Scott House (Performing Arts Building); introduction and upgrades to the school's ICT provision and the construction of the flood-lit astro-turf playground.
Mrs S Marsh 2011 – 2016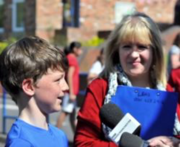 During her time as headmistress, Mrs Marsh devoted her time and energies into building upon the school's reputation, growing pupil numbers and making several improvements across the site, including the highly successful redesign of the Early Years department and the conversion of a classroom into a science laboratory.
Mrs Marsh's warm and child-centred approach enhanced further the school's positive ethos and enabled children across the ability range to thrive at Lady Barn. As a musician and composer, Mrs Marsh wrote and produced many school musicals, and the songs she wrote are an abiding memory for many who sung or who listened to them.
Mr M.D. Turner 2016 – 2021
With Mr Turner's arrival, the school moved forward in a number of areas, with the start of a complete renovation programme across the school site, both internally and externally. This included enhancing and improving our IT provision and the construction of two Astroturf pitches. High on the agenda was ensuring that the children come first in everything, enabling them to maintain Lady Barn's academic heritage alongside a broadening of opportunities in sport, music, drama, languages and pupil leadership.
Ms L Higson 2021 -
We are delighted to welcome Ms Higson to Lady Barn. The Governors were hugely impressed by her passion for education and the strength of her commitment to the welfare, happiness and success of her pupils. She summed up the Lady Barn educational philosophy with the words "Happy children thrive", which exactly mirrors the school's own approach.
Our curriculum continues to be enriched to meet the demands of our ever-changing society. Today, Lady Barn remains a pioneering school that combines traditional values with a modern outlook. We are a thriving community, that retains a happy, caring, family atmosphere. We continue to strive to provide the very best education that incorporates the latest educational thinking with the highest possible standards of pastoral care.
We remain true to the vision of William Henry Herford, we are passionately dedicated to each child's wellbeing and to developing each child's potential in as many areas as possible. We believe that a good education lasts a lifetime.
We are thankful to our founders and those who have served this wonderful institution over the years. And in the spirit of Herford's founding words – we promise to work tirelessly to ensure that 'every child shall never be deprived of the right to discover'.
Mr D Slade – Deputy Headmaster
*The research for this page is an on-going project. Should you have any further information which you would like to share or if you are aware of any inaccuracies please do not hesitate to contact Mr Slade and he will be pleased to amend this page.